Welcome!
We are delighted you are considering becoming a part of the Einstein community. 
The Einstein School offers a unique educational experience that preserves in our students their natural love of learning. Classes at Einstein are interactive, hands-on, and designed to ignite students' curiosity and passion. 
At Einstein, we understand that every individual directly contributes to our school's success. Students, parents, faculty, staff, and administration all work together to make the educational journey the best possible collaborative experience. 
Join us at the Einstein School, where curiosity survives a formal education. 
Jan Van Blarcum Executive Director and Founder of the Einstein School
Einstein School: A different way of learning
Inspiring Future Geniuses
An engaging learning atmosphere
STEAM aligned curriculum to reinforce future collegiate success.
An emphasis on a broad and comprehensive education in The Arts
Junior and Senior seminars
A collegiate style schedule made up of four nine-week quarters
Intensive writing composition instruction
Instruction in powerful technology skills
The inclusion of community service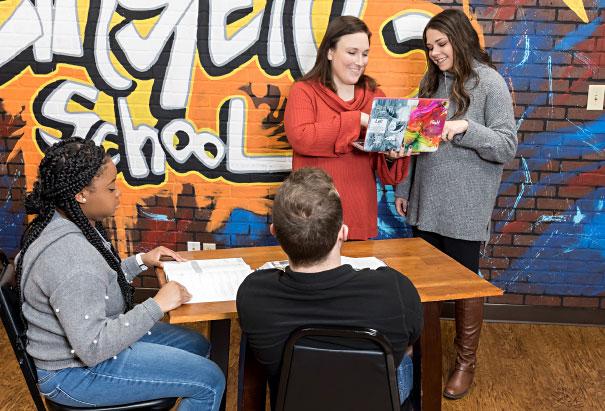 Testimonials
This school changed my life. I would recommend Einstein to anyone without a second thought. The Einstein School definitely has something special going on, don't miss out!
— Alum, Einstein School
The thing that makes the Einstein School truly stand out unlike any other school is the small class sizes. I can state with confidence that the focused learning environment has been a powerful tool in the advancement of my education. The environment has allowed for unique relationships to be built between students and faculty while still providing a quality education.
— Alum, Einstein School
Einstein School goes well beyond working with individual students and does whatever it takes to take each one to their highest academic and social successes. There is no "usual" lip service here; action is the standard, and there is no end to the flexibility and high values espoused by the administration and faculty.
— Faculty, Einstein School
As a graduate of the Einstein School I cannot recommend it enough. The staff played an influential role in my development throughout high school and gave me the tools necessary to succeed at the next level.
— Alum, Einstein School
The small class sizes and personally involved teachers and staff made Einstein a great fit for our daughter. The staff at Einstein are advocates for your child and work to do what is needed to bring academic success. We are thankful for Einstein.
— Parent, Einstein School
The Einstein School is so much better than any other institution our family has tried. The administration is amazingly forward-thinking about education, and the teachers are passionate and really try to connect with the students. This school would be a steal at twice the tuition!
— Parent, Einstein School
The Einstein School was life changing for my son. He attended all four years of high school at this institution and was supported beyond measure. Classes are small and instructors genuinely take an interest in the students. Einstein School offers both gifted and remedial courses depending on a student's abilities. The flexibility among staff is a refreshing change from the cookie cutter approach in public school.
— Parent, Einstein School